Another year, another Lions Club Charter Night.  But this year was different.   This year's Charter Night celebrated the 60th Anniversary of the Rappahannock County Lions Club as well as the 100th Anniversary of the Lions Club itself.
These were significant events and notice of this was carried in the Rappahannock News on the day of Charter Night, April 26, 2018.  It bears repeating here:
Lions Club Charter Night Covered by the Rappahannock News
In 1958, NASA was established, the first Toyota car was sold in the United States, Ford introduced the Edsel, Boeing launched the 707, and Wham-O brought out the Hula Hoop.  The No. 1 song in '58 was "Volare."
Here in Rappahannock, another important event occurred that year.  One of the more underappreciated forces in the county was chartered — the Rappahannock Lions Club.  Back then, it was a group of men who pooled their resources to do as a group those things which they couldn't do by themselves.  Now the Lions Club has both men and women members, and this week they observe their 60th anniversary.
The number of community services involving the Lions is impressive.  They provide free vision and hearing testing for all children in the county, even those who are only toddlers.  They provide funding for Boy Scouts and Girl Scouts, for 4-H Camp, for evening and summer youth athletic programs, and for Eagle Scout programs that benefit the community.  They support the Leo Clubs at Rappahannock County High School and Wakefield Country Day in their road cleanup projects.
They provide free eye exams and glasses for those who can't financially afford them. They provide scholarships to county graduating students who express a desire to enter into any of a number of public service areas, such as law enforcement, health care or teaching.  They are a mainstay of the annual Rappahannock Night Dinner at Camp Fantastic (for kids with terminal cancer).  They provide funding for the Veterans Day Observance at the high school, for After Prom Night at the high school, for the Shop with a Deputy program, and for the Senior Center.  They hold the county's only juried music competition – the annual Jimmy Bland Music Contest.  [And they provide} parking and traffic for the annual Christmas Parade.
Lion President Ross O'Donoghue cites another important Lions program.  "The Lions have raised $10,000 for the fire and rescue squads of the county through their Shop-Like-A-Lion program.  It allows any online shopper at Amazon or Walmart to contribute, at no cost, 4 percent of their purchase.  It's an innovative and easy way to get free money for the squads." (Details are at www. ShopLikeALion.org.)
"This is all important stuff," said former Lions President Larry Grove.  "These are the kinds of things that make our community special.  It is the power of organized good."
Jim Blubaugh, who has been with the Lions since 2005, first thought the Lions would be like the organizations he saw on television as a youngster — "The Honeymooners" and "The Flintstones."  "I thought that they were a group that wore funny robes and had secret ceremonies," said Blubaugh.  "Then I saw them at Camp Fantastic, serving dinner to kids with terminal cancer, all without fanfare or publicity.  They were normal men and women from Rappahannock, like me, trying to do something important for others.  That's when I decided to join." (Membership details are at www.Rappahannocklions.org).
The Lions are especially proud of the fact that they cover all administrative expenses from their dues, so that all of the money they receive from fundraising goes back into the community.
The 60th anniversary adds heft to this year's Lions Club's annual Charter Night gathering, taking place tonight (Thursday) at Narmada Winery.
The Club's members (I'm one, too) deserve thanks and support for 60 years of community service.  So when you see members selling apple butter or tickets to their annual ChiliFest, or when you take part in Give Local Piedmont next Tuesday, give them a shout out.  It's well deserved after six decades.
And Here's What Went On
The Lions Club Charter Night on April 26, 2018, at the Narmada Winery, began about 6:00 PM, and once again the bucolic setting of Narmada provided a serene background to the evening festivities.
Below, taking in the scenery and enjoying good conversation, we have from left to right:  the back of Rudy Segaar, unknown, Anne Grenade, the back of Gary Geibel, Bill Gadino, Jim Blubaugh, and Peter Hornbostel.   And further below, still on the deck, we have:  Mary Graham Kelly talking to Bud Meyer, Gordon Axelson, Buck Payne, and Anne Robertson.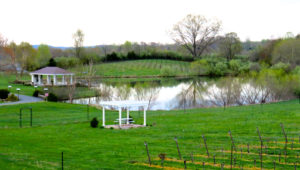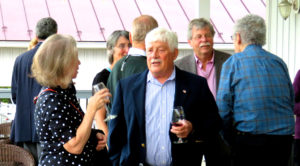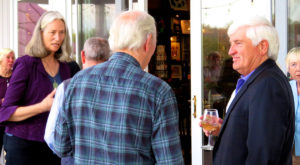 Inside, members, spouses, friends, and guests enjoyed the free libations as evidenced by the following pictures of Bob Lander with Rudy Segaar, and also of Gary Giebel.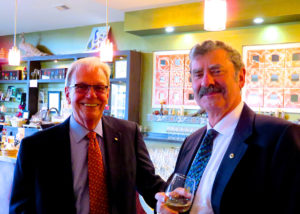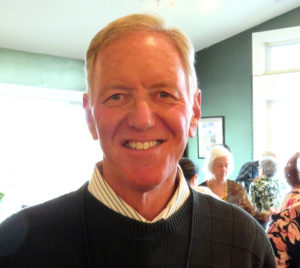 Gordon Axelson and Bob Anderson took their ease with a glass of wine each.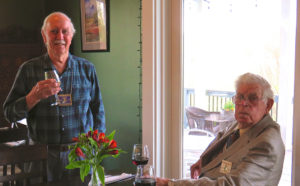 And now for a few words about the women who provide so much unsung support to the Lions Club by bringing their practicality and know-how in getting Lions Club events off to a good start and pitching in from beginning to end to make such events a success. They show up early to clean, help with decorations (many of which they make), pitch in where needed, stay during cleanup, and in general provide a leavening effect to sometimes Lions Club male exuberance.  They do all this with no publicity, and little in the way of thanks.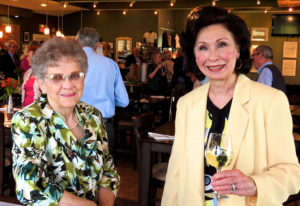 Roberta Anderson and DeEtte Axelson, above, might represent this element of the Lions Club, as do the other women noted in this posting. This includes Anne Robertson and Natasha Bush below, shown with Larry (Bud) Meyer and Paul Bush.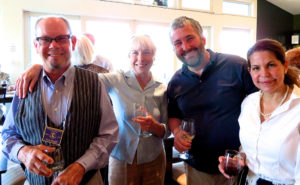 Bud makes another appearance below, with Dave Shiff, Mike Biniek, and Jim Manwaring.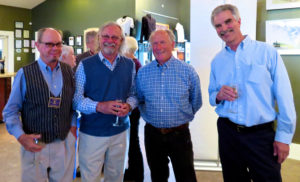 A photo of Frank Raiter is next. Frank, as long-time Treasurer of the Rappahannock Lions Club, runs a tight ship. Here he is at the bar at the Narmada Winery making his list and checking it twice, something we should all be thankful for, as the Lions Club remains solvent.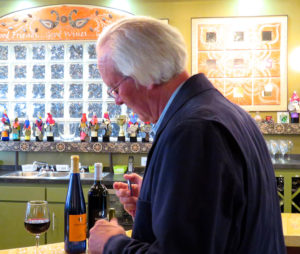 Close by at the bar were the dynamic trio of Yogi Bear, Greg Rushford, and Paul Bush, with Gordon Axelson in the background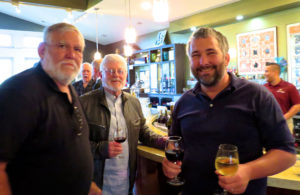 Below, and back to the outside porch with a bevy of beauties to match the beautiful view of the Narmada Winery in the background.   From left to right:  Kit Johnston, Carolyn Manwaring, Anne Robertson, Cathy Shiff, and Mary Graham Kelly.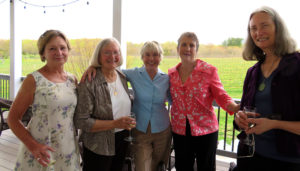 An alert grouping at the bar:  Greg Rushford, Kit Johnston, and Bill Pragluski, with Bill Gadino in the background.  Bill is the one who takes these narratives and photos and works his technical magic so that they appear on the Lions Club website.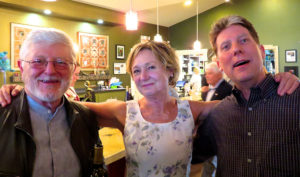 Greg Rushford and wife, Lucy.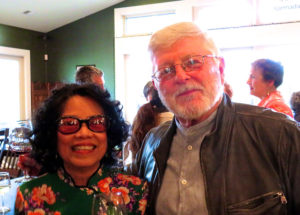 Bob Metcalfe, with his engaging smile.