By Don Audette
At the Lions Club meeting of May 10, 2016, Kit Johnston provided a slide presentation entitled "Hiking the Hidden Treasures of the Italian Riviera."   It was an inspiring story of how she celebrated her 65th Birthday, and the photo below shows Kit introducing her story.  Later, she made available he slide presentation so that selected scenes could be included here.
Kit explained that she "turned 65 last year so I decided to take a hiking tour of the Italian Riviera with the Sierra Club to celebrate.  Over 12 days we hiked a total of some 150 kilometers [93 plus miles] in wildlife preserves and World Heritage sites with two in-country guides, Joann from Lucca and Marco from Gubbio.  Day 1 began in Pisa then we curved around the spiny Ligurian Sea coast to end on Day 12 in Menton, France, once part of Italy.  Some hikes were more challenging than others due to weather.  But all were GREAT fun or seem so in retrospect, and we learned so much from our guides and other local experts. I love that part!"
The next photo shows Kit explaining where the tour took place.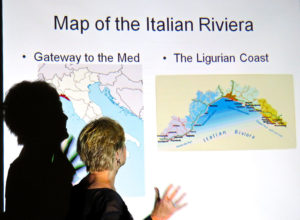 And from the slide presentation itself, we have a photo of the above-noted Ligurian coast.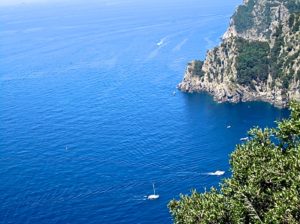 And then this statement from Kit.
I figure when you are 65 why waste time?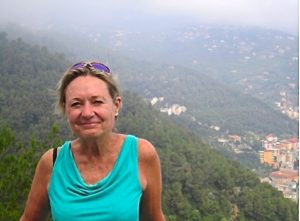 Some of Kit's photos from the trip included this one, entitled "An Open Coast."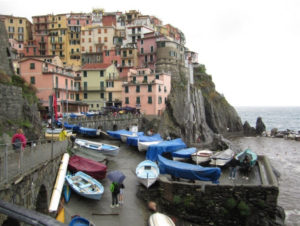 'Note the height of some of these houses. This is typical. The Ligurian Coast has always been pretty wide open. That once attracted barbarians, pirates, and other marauders. In the old days, you locked your lower story and kept climbing with weapons in hand. These days the Italian Navy patrols the coast for flimsy smuggler's boats overfilled with desperate refugees. The Navy rescues them to help them any way they can."
And the following: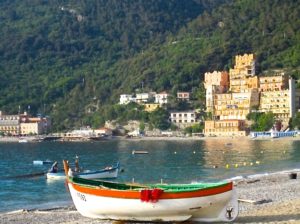 "A short drive the next day took us to Sestri Levante on a narrow jut of land between the Bays of Silence and Fairy Tales. Believe it or not, Hans Christian Anderson used to come all the way down here to write! Or maybe just to rest in the sun. Before lunching on octopus—and somehow the restaurant made that work—we hiked up and out on the Capo Manara Preserve in the deep cool shade of mature Aleppo Pines and Cork Oaks."