August 23, 2018
By Don Audette
Rappahannock Lions Club member Dick Reidinger made a visit to the Sperryviile Fire Hall for the August 23, 2018, Lions Club meeting to bid a fond farewell before moving to Atlanta, Georgia. Dick arrived early at the firehall in the company of his wife, Judy, and Lions Club member, Jim Blubaugh. Dick was immediately greeted by quite a number of the members who shook his hand and said how pleased they were to see him.
The meeting started as usual with a "rousing song," and this time the song was "My Way." Bill Gadino and Kit Johnston, shown below, seem to be searching for the right key.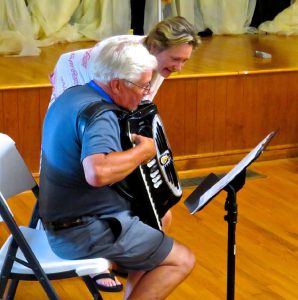 There was a handout with the words to "My Way." Below, Yogi Bear hummed, and Jim Blubaugh, Judy Reidinger, and Dick Reidinger joined in as the song sort of mellowed its way to a conclusion.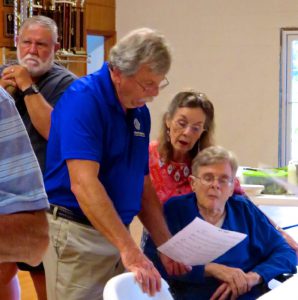 It was then time to take a few photos on the steps of the Sperryville Fire Hall. One photo was selected and then was used to make some enlargements that included those Lions Club members near Dick Reidinger. This was an easy way to identify them by name. The group photo selected is shown below, with the attending Lions Club members gathered about Dick Reidinger who is in the middle on the top of the front stairs of the Sperryille Fire Hall.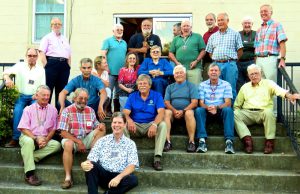 As to a cropped enlargement, an example is as follows, showing, left to right, Dick Reidinger, Bill Gadino, Rudy Segaar, and Bob Anderson.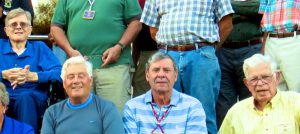 Another cropped enlargement is as follows, showing left to right once again, Yogi Bear, Dick Reidinger, Paul Bush moving into position, Ross O'Donoghue, Richard Antony, Mike Bineki, Bill Pumphrey, and Gary Giebel.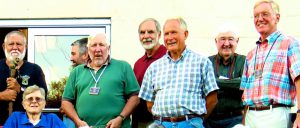 And another one, below, showing left to right and from top to bottom, Mike Mahoney, Greg Rushford and Yogi Bear, then in the middle row Bud Meyer, Jim Manwaring, Kit Johnston, Judy Reidinger, and Dick Reidinger, and finally, in the bottom row showing Spots Williams, Larry Grove, and Jim Blubaugh.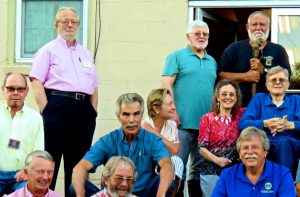 Anyone left out? Yes, Bill Pragluski. He is shown below with Judy Reidinger, Dick Reidinger, and Jim Blubaugh.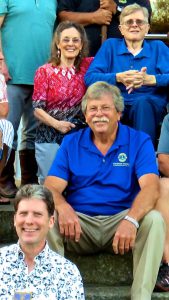 Below, Jim Manwaring on the right, a brilliant conversationalist at Lions Club suppers, has just dropped a bon mot and is immensely pleased with himself. Around the table, Rudy Segaar, Jim Blubaugh, Dick Reidinger, and Judy Reidinger react in subtle ways. In the background are Paul Bush, Bill Pragluski, and Joel Daczewitz selecting food.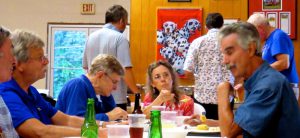 Below, Dick Reidinger receiving an affectionate pat from his wife Judy. Dick is extremely lucky to have such a wife.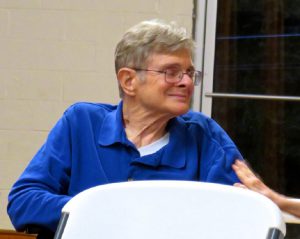 Below, Dick Reidinger thanks everyone for a most pleasant bon voyage dinner, and for a departing remembrance, a Rappahannock Lions Club Camp Fantastic t-shirt. Dick contributed greatly to the Rappahannock County community, especially as a member, with his wife, Judy, of the Sperryville Volunteer Rescue Squad, and as a member of the Rappahannock County Lions Club. He will be greatly missed.