By Don Audette
Another year, another picnic, another new board of directors and officers, and another annual ritual carried out. And, it was all well attended on July 12, 2018. Spouses and friends arrived early with bowls, plates, platters, and other containers filled with delicious food to go along with the hot dogs and hamburgers prepared on the heavy-duty grill manned by Larry Grove and Rick Kohler, two experts in this particular field. Table coverings, coolers for multiple drinks, utensils, and a myriad of other tasks were taken care of as well.
Above, we have a photo of the pavilion in its early stages of preparation. Tom Tepper is seated at the left, Ross O'Donoghue is inspecting a salad bowl, Bud Meyer is listening to Bob Anderson, with Carolyn Manwaring in the background. Roberta Anderson speaks with Pat Dorsey, with Yogi Bear in the background, while Ed Dorsey is checking the beverage cooler.
Below, more attendees in the shadows of the pavilion. On the left, Ed Dorsey, and on the right, Paul Bush. This is followed by a photo of some nibblers: Roger Andrews on the left, Judy DeSarno in the middle, and Kathy Grove. Behind them , Kaye Kohler, Karen Bear, and Jim Blubaugh.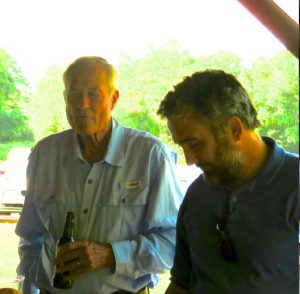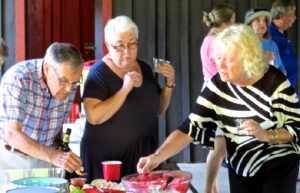 Below, we have Frank Raiter, and then Jim Manwaring, who is beginning to tell another of his fabulous stories to Sara Schonhardt, an intern at the Rappahannock News, and a Foothills Forum Fellow. In the background are Jim Manwaring and Paul Bush.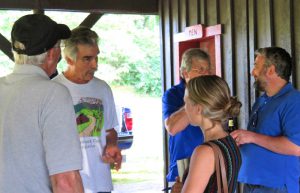 Again below, Ross O'Donoghue with Bud Meyer, strike smiling poses.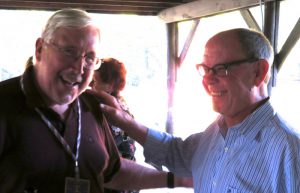 As an aside, one thing that is difficult to accomplish is to take photos in a shaded area such at the pavilion at the Rappahannock Recreational Center when there is a setting sun in the background. As a further aside, did you know that the Rappahannock Recreational Center was established by The Rappahannock County Recreational Facilities Authority, by act of the Board of Supervisors of Rappahannock County on November 2, 1978. The place is nearing being half a century old. That's a tid-bit to drop into a lull in some conversation.
One solution, of course, is to take a photo with no sun in the background, as demonstrated by the picture below. Here again, we have Jim Manwaring continuing his fabulous story to Sara Schonhardt, the intern at the Rappahannock News. Paul Bush and Frank Raiter are listening, but appear to be non-committal as the story unfolds.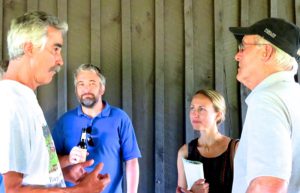 Below: Buck Payne and Joel Daczewitz.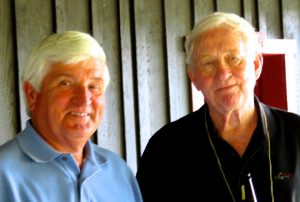 Manning the grill for the evening was the dynamic duo of Rick Kohler and Larry Grove. Shown below, Larry is breaking into a package of ground sirloin patties. At least this year they were not pre-cooked as they were last year. Further below, Rick is executing a subtle ballet move with a hamburger.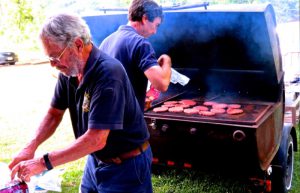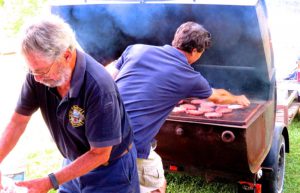 Below, yet another photo of Jim Manwaring, who is finally wrapping up his story. Others at the table are either totally dubious of the conclusion or smiling in tolerance or stare in disbelief.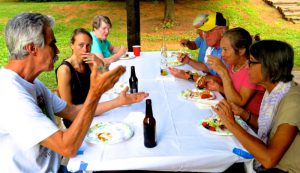 What a line up! Left to right below: Frank Raiter, Bill Pragluski, Jim Manwaring, Ross O'Donoghue, Dave Shiff, Bob Anderson, Bill Nenniger, Gary Giebel, Gordon Axelson, and Bill Pumphrey. Bob Anderson is making sure they each agree to certain positions in the Lions Club for the coming year.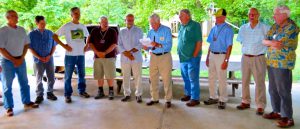 Lastly, we have the transitional handshake, as Ross O'Donoghue, outgoing Lions Club President, welcomes aboard the new Lions Club President, Dave Shiff, while Bob Anderson links both together.